All About Our New EFAP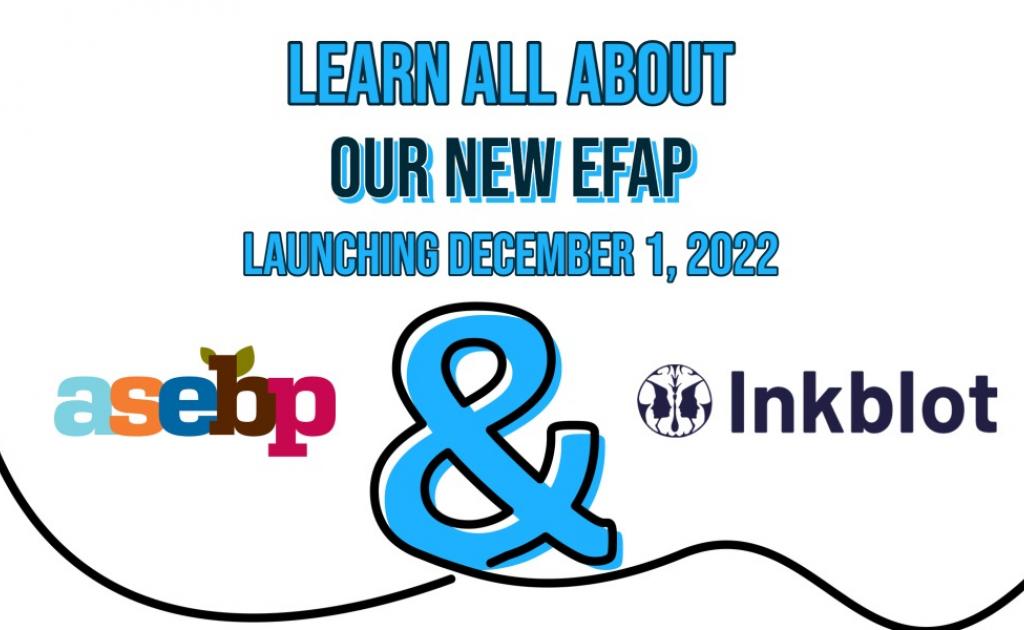 **Inkblot is hosting a general public orientation on Thursday, December 8. If you would like to learn more about their services and how their platform works, please register to attend (the session is offered in both English and French). This orientation is open to all of Inkblot's clients, not just ASEBP covered members.** 
As announced last month, on December 1, 2022, ASEBP will be launching a new Employee and Family Assistance Program (EFAP) with Inkblot. With the launch date quickly approaching, we wanted to provide you with some details about how the new EFAP will work. 
Quick Snapshot of New EFAP Benefits 
Access to services 24/7 via web or phone 
Access to counselling services in 24-72 hours 
You get to choose who you work with for counselling 
Access to a wide range of coaching and advisory services 
Yearly allotment of service hours 
Continuity of care: continue seeing your chosen practitioner even after your EFAP hours end 
EFAP Services 
With a network of registered psychologists and Masters-level clinicians across Canada, Inkblot offers you quick and easy access to the mental health supports you need, no matter when or where you need them. And, appointments can be booked in 24-72 hours from when you first reach out. 
Inkblot's highly qualified and responsive staff are trained to assist you in managing depression, anxiety, grief, stress, substance use, eating disorders, and a multitude of other mental-health-related challenges. 
Your EFAP offers more than just mental health supports. Through Inkblot's WorkLife Advisory Services, you can also access: 
Health consultations: receive advice from a registered nurse or dietitian for things like nutrition support, smoking cessation, etc. 
Legal advice: seek advice for things like real estate law, family law, and more. 
Financial advice: guidance on managing debt, saving for the future, etc. 
Career coaching: get support with making a career change or having difficult discussions with colleagues. 
Life transitions: from becoming a new parent to planning for retirement, your EFAP can help with it all. 
Trauma and crisis support services are also available. 
How It Works  
If your employer offers the EFAP as part of your ASEBP benefits (if you are unsure, check under the Benefits menu on My ASEBP), each calendar year, you will receive an allotment of hours, which include: 
Four hours of individual counselling  
Four hours of couples/family counselling 
Four hours of health consultations 
Four hours of career coaching 
Four hours of life transition coaching 
Legal advice, as needed (no limit) 
Financial advice, as needed (no limit) 
These hours are individual to you. Your dependants (i.e. a spouse or children) will also receive their own allotment of EFAP hours each year, if eligible. 
One of the many benefits of this new EFAP is that once your allotted counselling hours are used, you don't have to stop seeing your chosen practitioner. If you feel that you would benefit from additional sessions, you can continue seeing them and they will simply bill you directly, at a discounted rate ($110 for in-person session and $90 for virtual). You can then submit your receipt to ASEBP for reimbursement through your psychology services benefit and/or Health Spending Account, if enrolled.  
How to Access the EFAP 
As a digital-first organization, Inkblot offers the majority of their services online, but phone and in-person services are available, too. 
Come December 1, 2022, ASEBP will have a dedicated web portal with Inkblot that you will use to access their services. This includes a comprehensive intake questionnaire, which based on your unique needs and preferences, matches you with a list of potential practitioners. The list provides you with practitioner bios, along with a list of their treatment areas, so you can choose someone who you feel will work best for you. 
ASEBP's dedicated Inkblot web portal also allows you to book appointments (virtual, in-person or over the phone), reach out to your provider between sessions via a secure chat feature, access WorkLife Advisory Services, and read up on the latest wellness news via the Inkblot Wellness Hub. 
Inkblot also offers a crisis support line, which is available 24/7/365. 
We will have all of the access information available to you once the program launches next month, so be sure to check back for updated details. And don't forget, you will also receive a welcome email from Inkblot (if ASEBP has your email address) on December 1, inviting you to register for their platform. 
Need Support Now? 
We hope you are as excited as we are about the launch of our new EFAP, but don't forget, if you need support now, your EFAP with Homewood Health is available until November 30, 2022. Please don't wait for the new EFAP to launch before seeking help. 
Have Questions? 
Download our updated ASEBP EFAP FAQ (EN | FR) or reach out to an ASEBP benefit specialist.