We Want to Hear from You!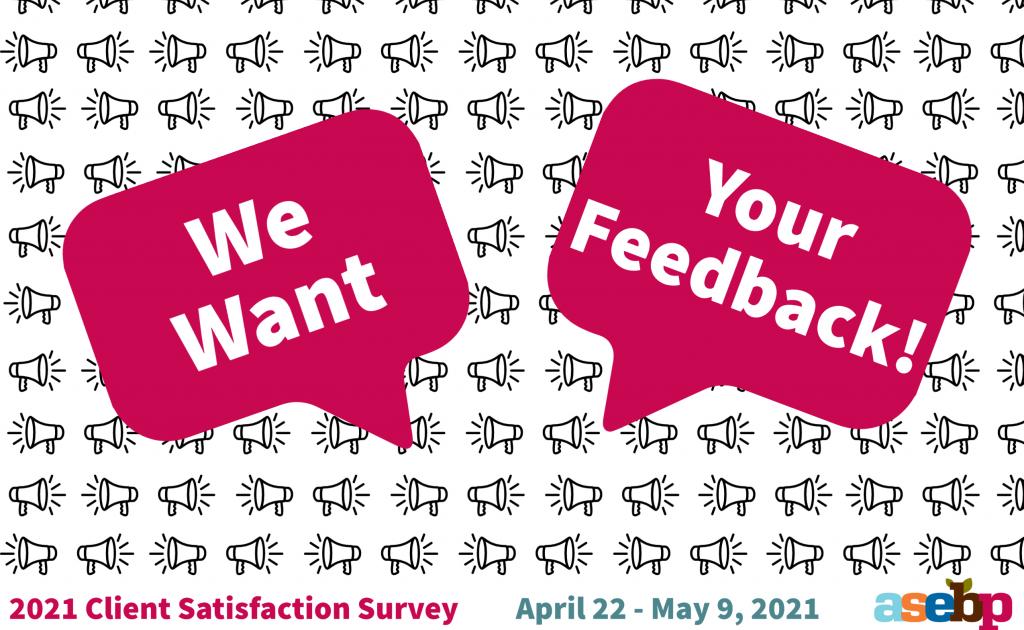 As a committed partner in promoting, protecting, improving and sustaining your health and that of your family, we want to know: are we meeting your expectations?
From your Alberta School Employee Benefit Plan (ASEBP) benefit experience to how, where and when you interact with us, we want to know about it all. That's why, this month, we're launching our 2021 Client (that's you!) Satisfaction Survey! This 10-minute series of questions will help us determine what we're doing well, what we can improve, and if there are any opportunities we might be missing entirely. 
Here are the key details you need to know:
The survey will open on Thursday, April 22, and close on Sunday, May 9.
Participation is only through an email invitation, which you'll receive from our survey vendor, Advanis, not ASEBP.

Invites will be sent to the email address associated with your My ASEBP account.
Please do not forward your survey invitation to anyone else. This will help ensure only current ASEBP covered members participate in the survey.
If you have any questions about the survey, please reach out to us.

It will take approximately 10 minutes to complete.

The survey does have an auto-save feature, so if you need to step away and come back later to complete it, you can.

Your participation and survey responses are completely anonymous.

There's no way for us to know who's completed the survey or to tie specific responses back to participants.

Sharing is caring, especially when it comes to things we've learned.

Once we've completed our analysis of the results, we plan to share what we've learned with you. More details to come on this after the survey closes, so stay tuned!
While we informally collect feedback all the time about the benefits and services we offer, our Client Satisfaction Survey allows us to receive more precise information to help guide the work that we do. Your feedback, thoughts, and ideas are important to the long-term sustainability of our plan and we are looking forward to hearing from you.