Employee Spotlight: Jen H.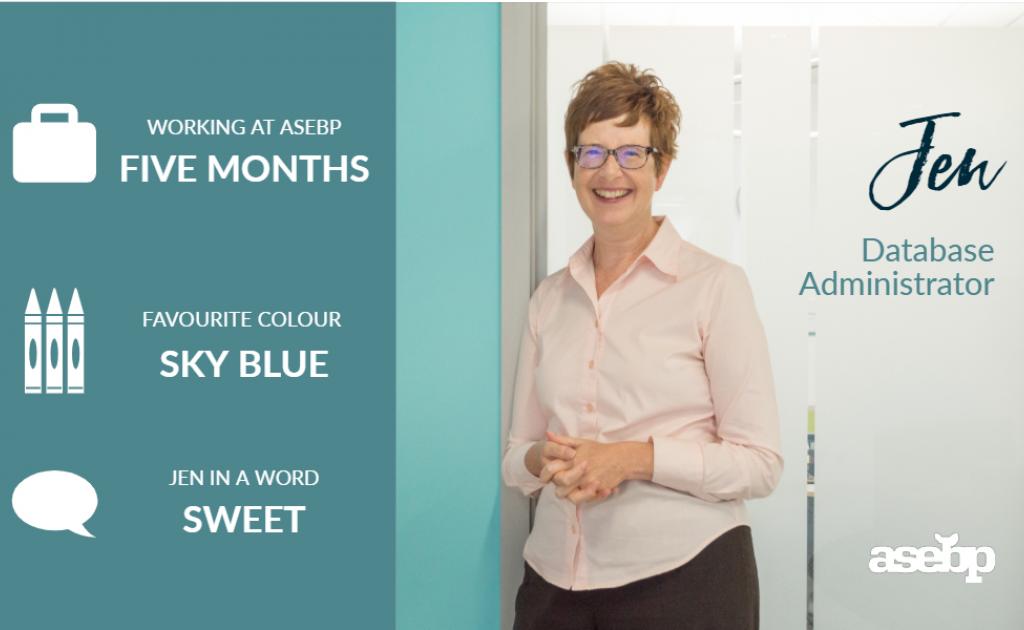 What's your title? Database Administrator
How long have you been at ASEBP? Five months
What's your favourite colour? Sky blue
What's your favourite TV show? The Big Bang Theory—my whole family watches it together, which is fun
Describe ASEBP in a word or two:  Surprising, exciting
Describe yourself in a word or two: Quiet, sweet
What does your job entail?
When I'm not delivering donuts and K-Days tickets as a member of our Spirit Committee, I support the Information Technology Services and Business Intelligence Services teams by improving the security, capacity, integrity and effectiveness of the technology that houses our data. I'm a bit of a one-trick pony, specializing in this one thing. I can't write a report or fix a printer, but I can make sure our data is safe, sound and ready to go. It's a great gig!
What aspect of your role do you enjoy the most?
Like Mrs. Bird from the movie Paddington, I like to keep things ship-shape. For databases, that requires an interesting mix of planning, building, monitoring and adjusting.
What do you like most about working at ASEBP?
I'm amazed how people are open to growth, and are funny and supportive even though they're super busy. That's still so striking and so infectious—I love working here!
How do you like to spend your time when you're not at the office?
I like to walk or bike in the River Valley with my kids and mess about in our yard. With all the rain, it's been easy to catch a few Blue Jays games and work on some crochet projects. My technology time outside of work is limited to typing up the minutes for my kids' school council meetings and few too many games of Sudoku!