Employee Spotlight: Carol W.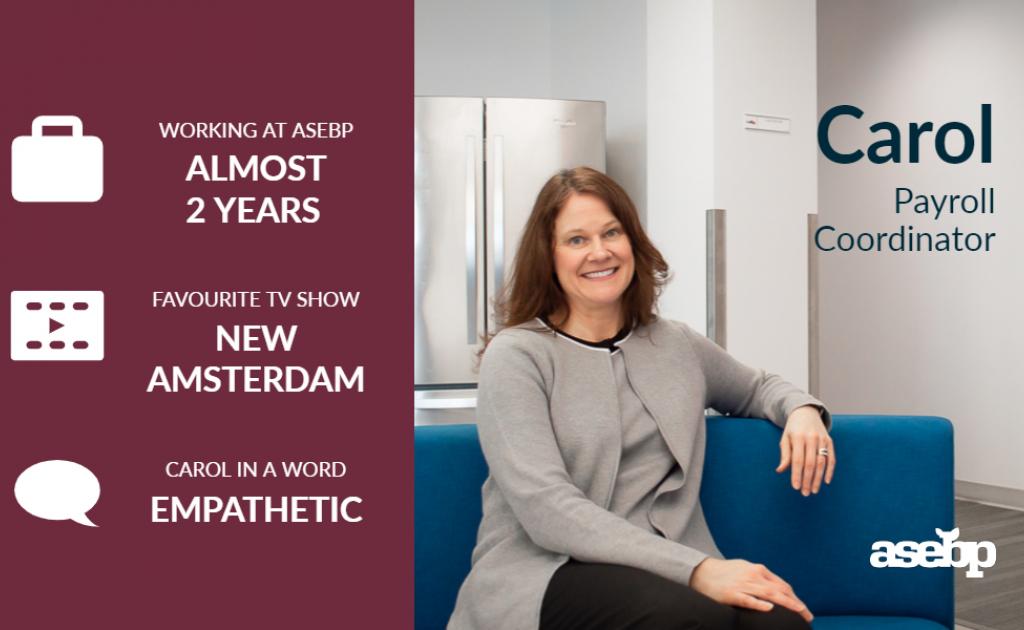 What's your title? Payroll Coordinator
How long have you been at ASEBP? Almost two years
What's your favourite TV show? New Amsterdam—I love Dr. Goodwin's catchphrase "How Can I Help?" 
What's your favourite holiday? Going to Mexico for an all-inclusive with the family—I just sit by the pool and read mindless non-fiction for a week
Describe ASEBP in a word or two: Caring, wellness
Describe yourself in a word or two: Empathetic
What does your job entail? 
Paying the head office staff in a timely and correct manner—I'm a very popular person. I'm also responsible for making sure we meet all provincial employment standards and Canadian payroll association guidelines. There's a lot that happens in the background (including benefits, pensions, etc.), but I won't bore you with the details.
What aspect of your role do you enjoy the most?
I love when I can help an employee with a question or help them solve a problem. Sometimes the answer is 'no,' but I love when I can actually make their lives a little simpler.
What do you like most about working at ASEBP? 
This is by far the most caring organization I've ever had the privilege of working for. It's easy for companies to say they're focused on their employees' well-being, but ASEBP really practices what they preach. I so appreciate the authenticity.
How do you like to spend your time when you're not at the office? 
My two children just became adults and stopped playing competitive sports a few years ago, so I'm still trying to figure out a life that doesn't include driving to endless practices and games and hanging out with the other parents. I tried picking up pickleball over the summer and joined Orange Theory about a year ago. It's a work in progress, and I'm still figuring it out, but I did get an adorable Havanese/Poodle to help fill the gap.